Health starts in the mouth ...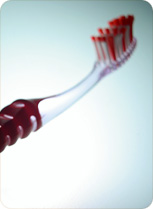 Bacteria that are not part of the normal oral flora often impact the body for a long time uncovered. This is a burden on the entire organism. In the mouth area they lead to tooth decay and gum disease. However, they can also cause deseases in the entire body such as heart disease, vascular disease, and stroke, etc.
Regular, professional dental cleanings and prophylaxis help to restore the balance in the mouth, and prevent effectively against tooth decay and Periodontosis. In order to prevent diseases of the teeth and the gums it is unfortunately not sufficient to take only the annual scaling paid by the public health insurance.
Our specially trained prophylaxis assistants carefully and gently remove plaque and advise you on all aspects of Prophylaxis.