Did you know that ...
chronic back pain can result from bad dental occlusion (the way your teeth close)? Function analysis can detect this, and dental procedures can eliminate back pain.
ear pain can be superficial. Problems with your "bite" can be the reason behind it?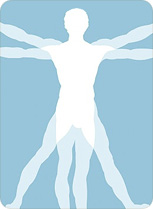 The human body is a unity of different organs, which are interconnected. The oral cavity plays a central role and many diseases in other body regions have their origin there. The holistic dentistry therefore considers the whole human body.
More information:

DGZMKwww.dgzmk.de
Girrbachwww.amanngirrbach.com
Kavowww.kavo.com